ROCKS OFF
MICK TAYLOR

Considered as one of the best guitar players ever, Mick Taylor is a living legend.
He was a Blues Breaker, a Rolling Stone and a sidemen in both studio and stage for many great musicians like Bob Dylan.
This is a site with the best links while we finish our original research a'la Rocks Off J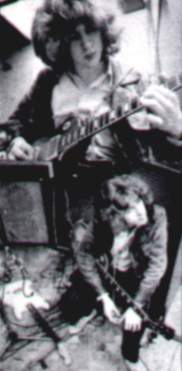 Mick During John Mayall's  Blues from Laurel Canyon Sessions 1968.
Scanned from the album inside cover
Mick was with John Mayall from 1966 to 1969, longer than any other guitarist with the Blues Breakers.
"I doubt if there could be a better choice than Mick Taylor who really shows his brilliance on this new album. He has worked with me longer than any other guitarist I've had and I hope that we'll continue as a team fir a long time to come"
John Mayall 3rd September 1968
To note, previous guitarists with John Mayall included Sammy Prosser, Bernie Watson , Roger Dean, Eric Clapton, and Peter Green. Mick Taylor was only 19 years old.
Seven months later he became a former Rolling Stone replacing Brian Jones who quit the Stones to make his own music and passed away some weeks later. His first live appearance was at the Hyde Park in July 1969.
Albums with the Bluesbreakers: Crusade (1967), Blues from Laurel Canyon (1968),  Bare Wires [Deram] (1968), Diary of a Band, Vol. 1 (1968), Diary of a Band, Vol. 2 (1968), Looking Back (1969), Laurel Canyon (1969), Empty Rooms (1969), Thru the Years (1971), Back to the Roots (1971), Primal Solos (1977), John Mayall Profile (1980), Archives to Eighties (1988), London Blues (1964-1969) (1992), Room to Move (1969-1974) (1992), Wake Up Call (1993), John Mayall and the Bluesbreakers... (1994), Return of the Bluebreakers (1994), Bare Wires [Rebound] (1994), As It All Began: The Best of John... (1998), Drivin' On: The ABC Years (1975... (1998), Silver Tones: The Best of John... (1998), Masters (2000), and Along for the Ride (2001)

Professor Hendrix with Mick on the MSG dressing room November 27, 1969
These photos by courtesy of Carol Rock
He made a lot of contributions to the Rolling Stones  but was not credited properly so he decided to quit in 1974.
Albums with the Stones: Let It Bleed (1969), Get Yer Ya-Ya's Out (1970), Sticky Fingers (1971), Exile on Main Street (1972), Goats Head Soup (1973), It's Only Rock and Roll (1974), and Tattoo You (1981)  Compilations: Hot Rocks, 1964-1971 (1972), More Hot Rocks (Big Hits and Fazed (1972), Made in the Shade (1975), Metamorphosis (1975), Sucking in the 70's (1981), and Singles Collection: The London... (1989)
<![if !supportEmptyParas]> <![endif]>
<![if !vml]>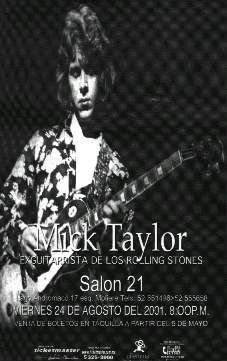 <![endif]>
Checa la página especial en español para el evento.
MÉXICO D.F. 31 DE AGOSTO DE 2001
<![if !supportEmptyParas]> <![endif]>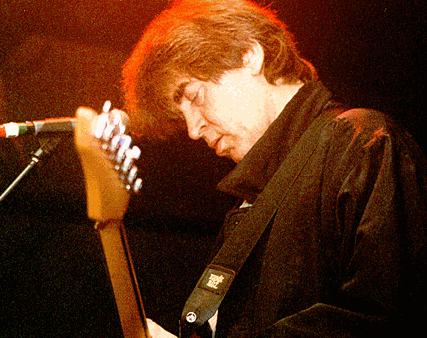 Mick Taylor, San Francisco, 28 Mar 99
The same day we were hearing the boyz in Hartford 1
With permission of Rose (RocknRose) Check art by her here!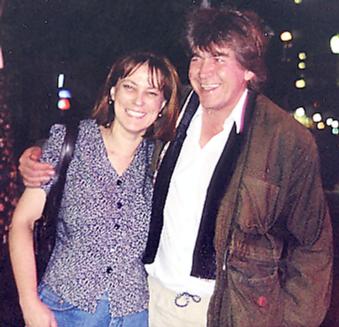 Carol and Mick Taylor suffering!

THE BEST LINKS
We lost a great research about his guest appearances due to a hard drive crash, we are redoing it. In the meantime take a look to Rock Record and AMG All Music Guide.
The Mick Taylor Band or Mick Taylor Present and Future by Carol Rock (previously it included also THE PAST AND PRESENT, but now it is just for PRESENT AND FUTURE J)
Mick Taylor Dot Com (aka The Mick Taylor - Rolling Stones WebSource) by Gary Paranzino.
Mick Taylor's Complete Works 1962 – 2000 by Nico Zentgraf
Mick Taylor Website  Time Waits For No One by Jean Pierre Cazes
FAN INTERACTION
The Mick Taylor Music Review Board by Carol Rock.
Mick Taylor 2001 Tour Message Board by Gary Paranzino.
Yahoo Club dedicated to Mick Taylor by Gary Paranzino.
SW5: The Mick Taylor e-mailing list by Gary Paranzino.
MORE LINKS
Chat transcript from Artist Shop (Thanks Mick for answering our questions)
Check this great interview and this article in Intermusic.
Mick Taylor's Shadow Man click see to see Mick on Piano
Mick Taylor: Rock, Blues & Slide Guitar Video review by Factory Girl
Undercover HP Guest appearances by Blaine Baker and Jens Backlund last update 1996
GIG REVIEWS AND PHOTOS.
Mick Taylor live in Tübingen 21.10.00 (Sudhaus) und Schmölln 28.10.00 (Beatclub) by Niko
Grand Emporium February 8, 2000
London October 7 1999 by Vanja Fridhammar
Mick Taylor San Diego 3-25-99 and Yucaipa 3-27-99
Gothenburg, Sweden. 1999-09-22. Photo Mikael Sandberg, Tibro, Sweden.
Mick Taylor with Keith Emerson and Kim Simmonds
Click for some memories and audio clips from the Long Beach Blues Festival September 5, 1998
The Mick Taylor Club Gig - 07-24-98