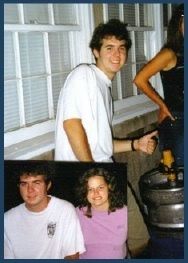 TEMPLE LEE MEMORIAL SPACE
Temple Charles Lee (b. June 25, 1978 d. November 1, 1998)

Words from his relatives and friends.

David Baldwin a friend of Temple since 7th grade said he was not angry at the driver of the car but hoped the incident would change the way people look at drinking and driving.
Forgive the driver! "Shame, Shame, Shame"
Do you think you have problems with the use of drugs and/or alcohol? (One of the strongest and more destructive drugs). Only you can answer and take a decision.
Get free orientation and help from people with the same disease.