This is a space made thinking about Jimi in the 28st tanniversary of his tragic death;
it is also a space to remember his times with The Rolling Stones
This page was created on September 18, 1998 this is the fifth update, March 2, 2008 to include the following note:
---
PLEASE READ: This is a fan website NOT related with neither EXPERIENCE HENDRIX, LLC nor Sony Music Entertainment nor Sony BMG
They ALL tried to remove info from this website but we won!!
They are only in it for the money, we're here for Jimi's music!
For more about what they tried to do check this link or this one too! in this please check the video description.
We all due respect, they all SUCK!!

Enjoy the website, it was made with love and it's free for you to enjoy!! Do it!
---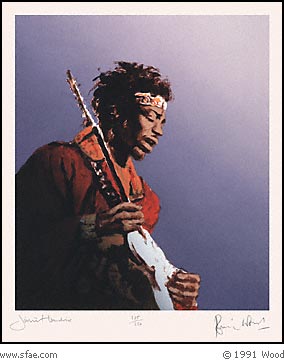 Jimi Hendrix by Ronnie Wood

This is also by Ronnie Wood!
It's from a Polish Magazine courtesy of our great friend IRINA; the title translates as "Ron Wood talking about his friendship with Jimi Hendrix." and the first sentence is "I spent many wonderful moments with Hendrix." --- Thanks Daniel too!!
I woke up this morning and found myself dead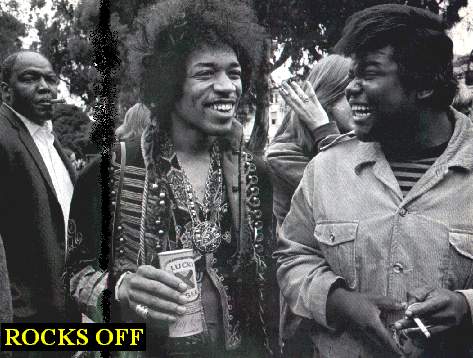 Today 28 years ago Jimi Hendrix passed away. One day before his death he composed his last song "The Story of Life" that was never recorded.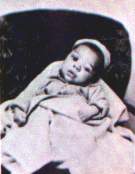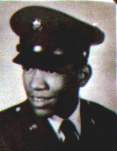 Born as Johnny Allen on November 27, 1942 in Seattle, then changed to James Marshall on September 11, 1946, and died in London September 18, 1970 Jimi Hendrix with a very short career, is part of Rock History.
The Rolling Stones and Jimi Hendrix have one thing in common: Power! Power than any other group/performer has transmitted in such a way. "Crude Rock taking about surrealism, sex and drugs".
Recently I asked Mick Taylor about his jams with Jimi Hendrix, here is the answer he gave me:
"I remember one time in 1966 ... 67 ... I think 67 ... I played in San Francisco at the Fillmore West, and I was playing with John Mayall; Albert King was playing and Jimi Hendrix was at the top of the bill. At the end ... some guys from the Grateful Dead got together with us and jammed all night.
One time, he came to this little club in London called the Speakeasy. It was a little club that musicians came to ... Hendrix came there anyway... it was that kind of club that musicians used to go to in the evening. He wanted to play, but there was no spare guitar... I'm right handed ...and he's left-handed...and all he did was just turn it upside-down ... It was amazing to hear someone play so well...and with the guitar backwards! Jimi Hendrix could play both ways...which is quite phenomenal.
I've never met anyone else that could do that. It's like playing the piano backwards.... Because all the strings and notes are reversed. He seemed to be able to play equally well both ways ... which is quite phenomenal.
You can't learn to play one way...and I can't think of anyone that I've ever met who's left handed that can just turn a right handed guitar upside down... To turn it upside-down and play backwards. All the chords are reversed...and instead of bending a string.... You'd have to pull it.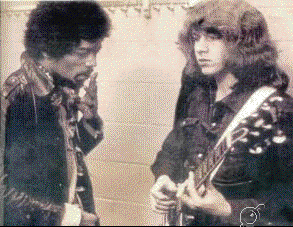 There were a few other times that I remember ...backstage at Madison Square Garden in 69 with the Stones. He came to the show, I think he was living in NY...during his band The Gypsies period...he came backstage ... and we had a little jam in the dressing room. I've actually seen some photos of that published in a magazine a few years back. I very rarely ever saw Jimi Hendrix without a guitar. He was always playing a guitar."
And this is Mick Jagger in a Jann S. Wenner interview for Rolling Stone:
"I loved Jimi Hendrix from the beginning. The moment I saw him. I thought he was fantastic. I was an instant convert. Mr. Jimi Hendrix is the best thing I've ever seen. It was exciting, sexy, interesting. He didn't have a very good voice but made up for it with his guitar. I first saw him at the at the Revolution Club in London. I was one of the six people in the club, and Jimi was playing. I couldn't believe it. It was insane . so good and the whole idea of this kind of English band behind him, this bizarre mixture between a blues performer and a rock player with and English touch.
I was quite friendly with him. He was a really sweet guy. A bit confused. It's the same old story: Jimi Hendrix played all over the place with all these bands. He'd been a background guitar player for donkey years and suddenly he gets what he wants, then he has to play "Purple Haze" every night. He goes "Uh, I don't want to play "Purple Haze" every night. I don't want to burn the guitar." And then when everyone went off the deep end, he had to go off the deep end. He became a heroin addict"
Mick Jagger
Rolling Stone 723 - December 14, 1995
Hendrix has a lot of things in common with the Stones, he was about the same age (some months older), they were active in England during the same period 67-70.
Both recorded and released versions of Bob Dylan's "Like a Rolling Stone" live... only live.
They also were good buddies, they took drugs together, and they also covered each other. The following is a summary of some coincidences in life:
---
1965
---
After playing with many bands like BB King, Albert King, and later with Ike Turner, George O'Dell, The Isley Brothers, Lonnie Youngblood, Sam Cooke, Chuck Jackson, Jackie Wilson, Joey Dee and the Starlighters and many more Jimi lives in NYC (Harlem) when Little Richard fired him because he started to be the attraction of the show.
---
1966
---
Without a job, his then girlfriend Faye Pridgeon (Sam Cooke's ex) put Jimi in contact with Curtis Knight. Later Jimi records with Curtis Knight a great cover version of the classic "(I Can't get no) Satisfaction"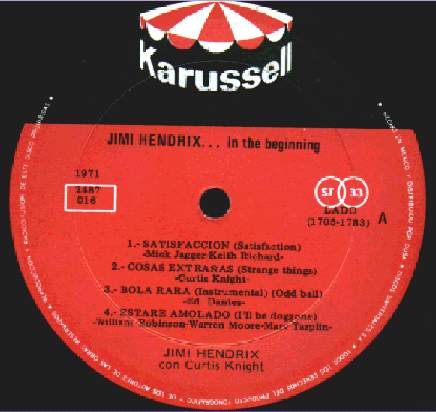 1966 (continued):
When playing with Curtis Knight, one day Keith Richards' girlfriend Linda Keith saw Jimi at a club located at 126 St., Linda was with his friend Mark, the owner of "Café Wha" in the Greenwich Village. They told Jimi how impressed they were at his performance and invited him to play at the "Wha", Jimi didn't pay attention to the invitation and formed Jimmy James and the Blue Flames with Randy California (who later formed Spirit). After living the Curtis Knight Band he discovered the Fuzztone Box, later they played at the "Wha". It was early July 1966 when the Rolling Stones arrived to NYC, and Linda Keith was with them and saw again Jimi playing, she told him that he must sing in addition to play.
Linda Keith gave Jimi a Keith Richards guitar with left-handed strings with one condition. To sing loud that nigh for one friend, Chas Chandler the ex bass players for the Animals who turned a producer. Chas was so impressed that made a proposal to Jimi to go to England to form a new band. In London the first jam of Jimi was with the Cream on October 1, 1966; Eric Clapton was so impressed that Chas decided to form a group, "The Jimi Hendrix Experience" with bassist Noel Redding and drummer Mitch Mitchel, the rest is history.
It's a fact, Linda Keith was the catalyst to make it happen!
Mick Jagger saw Jimi Hendrix for the first time at the Revolution Club in London, Mick was one of the six people attending the show!
---
1967
---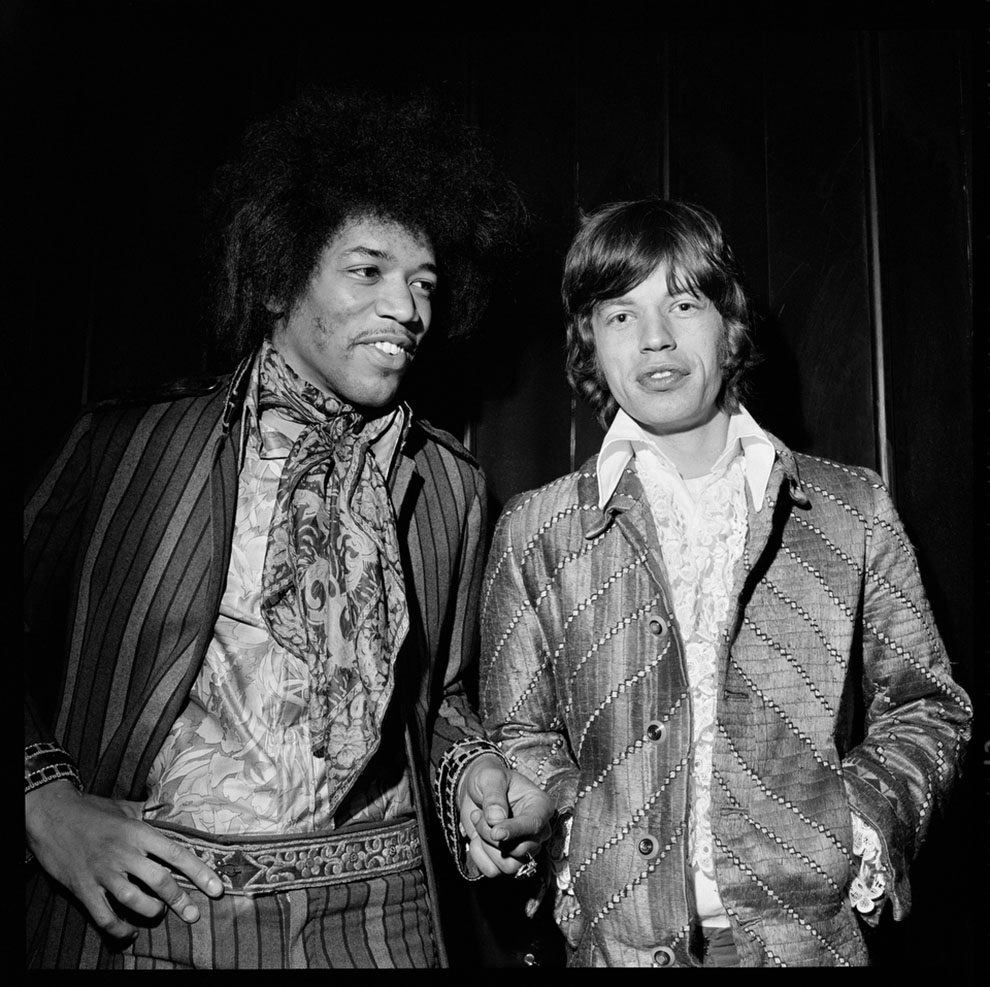 Mick Jagger & Marianne Faithful attended the Hendrix show at 7-½ club in London January 12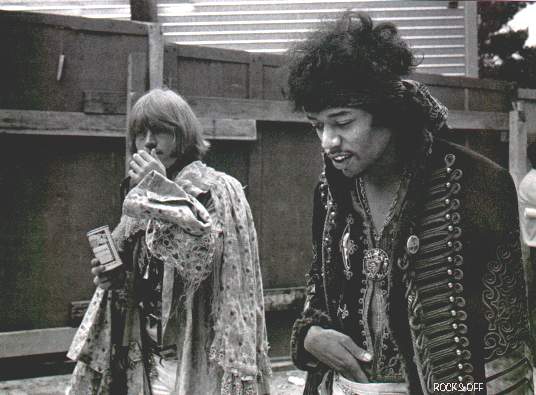 Hendrix and Brian Jones take LSD together at the Monterey Pop Festival. Brian Jones introduces the Jimi Hendrix Experience. June 18.
Later this year, early October Jimi and Brian compose and record together at Olympic Sound Studios in London two takes of "My Little One" with Chas Chandler producing and Eddie Kramer engineering and the following line-up:
Brian Jones - Sitar and percussions
Jimi Hendrix - Guitar
Dave Mason - Bass and sitar
Mitch Mitchell – Drums
You can download both takes here:
The files are in MP3 format, so just download and play it loud. The tracks are here temporarily, if you can't download they are available on request)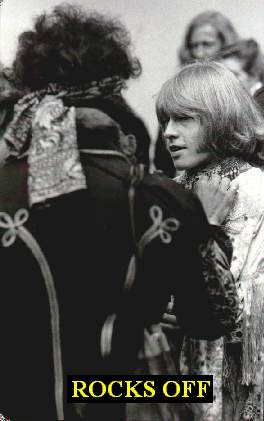 Mick Taylor jams with Jimi in the Fillmore West, after a concert, members of the Grateful Dead were also in the jam.
---
1968
---
Tom Keylock who was Brian's and the Stones driver relates a story in Jan. 68 of Jimi wanting Brian to come to a recording session, Brian shows up with sitars and various Indian instruments. After the session Keylock took Jimi and Brian back to Brian's place where they played acoustics together, which was in Keylock's description `Brilliant` (*)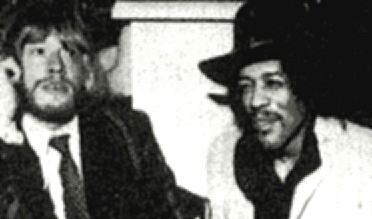 Brian attended the Electric Ladyland recording sessions at the Olympic Sound Studios in London, January 21. He played piano on two takes of Dylan's "All along the Watchtower", but they were taken out by Eddie Kramer. One of these takes has Jimi playing bass upside down. You can hear a very short clip of the take with Brian playing piano on the video "Jimi Hendrix - Electric Ladyland - Recounting the Music of a Legendary Music Recording" Rhino Home Video Classic Albums Series. R3 2386.
Then Mitch and Brian played percussion; in the movie, Mitch explains what Brian did... (Just play some beats on a drum and a tambourine), but that take was also not included in the final cut :=(You can see a photo of Brian in the sessions in this video... he looks stoned. According to the South Saturn Delta album credits Brian plays sax on "All Along the Watchtower, but according to the experts it is not true, maybe just publicity to sell more albums to Stones/Brian fans.
Jimi dedicates "Stone Free" to Brian Jones and plays some chords of "Get off my Cloud" during the Dusty Springfield TV show in June.
Ronnie Wood jams with the Jeff Beck Group and Jimi Hendrix on June 16 at the Daytop Village Under The Stars Festival - Reality Home Rehabilitation Center in Long Island, NYC. They played Foxy Lady between others. Two days later, the Jeff Beck group plays at the Scene in NYC with Special Guests: Eric Clapton and Jimi Hendrix Again Foxy Lady is performed live. Then on June 21 and 22, Jimi is a guest again.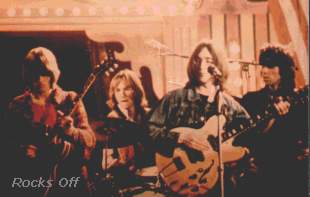 Keith Richards and Mitch Mitchell jam together with Lennon and Clapton in the Dirty Mac Group recording audio and video in the Rolling Stones R&R Circus, December 11. Keith played bass!
---
1969
---
"In mid-June `69 musicians such as Mickey Waller, Alexis Korner, John Mayall, and Mitch Mitchell were among the guys that went to Brian's place to jam. Some of these guys obviously like Mayall and Mitchell already had stuff going on. Mickey Waller who was the original drummer with the Jeff Beck Group might have been a likely candidate. But these were friends of Brian` trying to help him find suitable people to play with. He asked Stu to come but he declined."(*)
Brian Jones passed away, July 3.
Hendrix plays Lover Man dedicated to Brian Jones at "Tonight show with Flip Wilson as host on July 10.
Jimi celebrates his last birthday attending a Rolling Stones concert at the MSG, NYC on November 27. Jimi Jams with Mick Taylor in their dressing room the same day.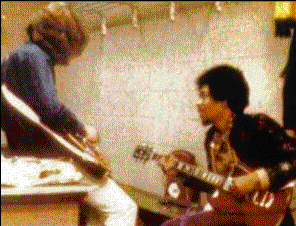 Mick Jagger was the inspiration to the Jimi Hendrix song Dolly Dagger. It has a line in the song that says "She drinks her blood from a jagged edge…" During Jimi's birthday party on November 27, 1969, Mick accidentally pricked his finger. When he asked for a band-aid, Devon Wilson (Jimi's girl) rushed to him and told him that wouldn't be necessary. In full view of Jimi, she sucked the blood from his finger.
Also Jimi sort of "stole" Devon, Mick's girlfriend away. The song Dolly Dagger additionally says, "…better watch out baby, here comes your master" And refers to her during the lead saying, "Come on Devon and gimme some of that heaven." If ya dig deep enough, you'll see that Jagger dug Devon."
This is a video from that night, the background music is the Jimi Hendrux, Brian Jones, Dave Mason and Micth Mitchell session with both takes of "My Little One"

Footage of Jimi with the Stones backstage (MSG, NYC, November 27, 1969)
---
Click here for more photos in his last birthday
Photo by Sound Engineer, producer and noted philosopher Eddie Kramer!
---
1970
---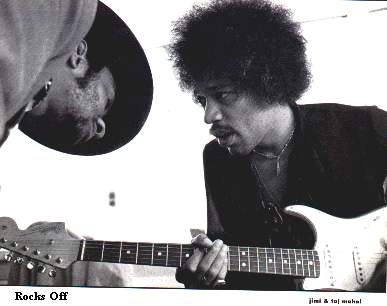 Jimi recorded Mannish Boy and jams with Taj Mahal in NYC in January. No Stones involved but just to feel this year with a common cover and a common musician.
Jimi passed away, September 18.
---
1972
---
Ronnie records ANGEL with Rod Stewart for the album Never A Dull Moment. Later this year they play Angel live at the BBC for the program Top of The Pops.
---
1973
---
Ronnie "B" Wood plays ANGEL with The Faces and LITTLE WING with Eric Clapton – Rainbow Theathre.
Mick Jagger in interviewed about Jimi Hendrix, the interview appears on the Jimi Hendrix film "Jimi Hendrix"
---
1981-82
---
The Rolling Stones put Woodstock version of Jimi's "The Star Spangled Banner" at the end of (almost?) all concerts during the 1981 tour. The album Still Life released in 1982 includes that version.
---
1986-87
---
Mick Taylor includes Red House in his setlists.
1987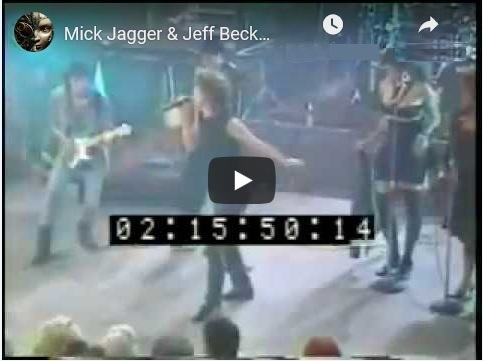 Mick Jagger with Jeff Beck doing Jimi's Foxy Lady, The Country Club, Los Ángeles, CA - October 20, 1987

---
1988
---
Mick Jagger performs Foxy Lady in his solo Australian tour September/October. There was an Australian TV special filmed in concert called "Deep Down Under" which includes a live version recorded in Melbourne on 15/10/88. An MP3 File is available in Jair's page. Press download it or hear it. Also visit Jair's site, go to ROCKS OFF audio room and see the links.


This is a video I made from one of the shows:
---
---
1989-1991
---
Mick Taylor, again, includes Red House in his setlists.
---
1992
---
Keith and Jimi enter together into the Rock and Roll Hall of Fame.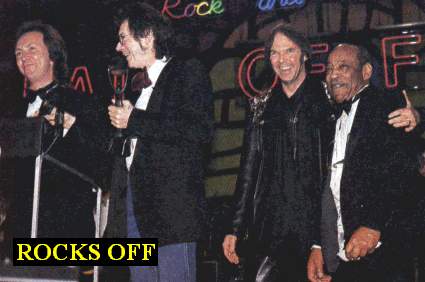 Mitch Mitchell, Noel Redding, Neil Young and Al Hendrix instead of Jimi Hendrix.
The same day Keith jams with Noel Redding and Mitch Mitchell.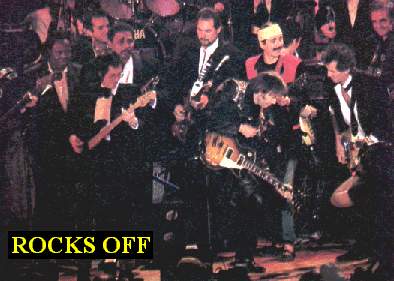 Noel Redding, Neil Young, Carlos Santana and Keith Richards (Mitch played drums)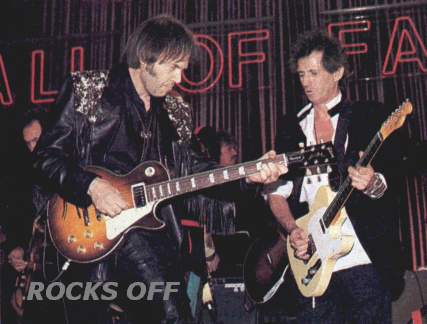 Dylan's All Along the Watchtower, Purple Haze, Green Onions, Soul Man and When Sometimes is Wrong with my Baby" were played between some more.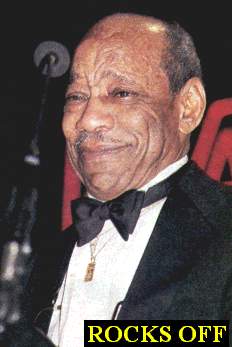 "The prouder man was Al Hendrix. Standing next to his son's two former band mates, the father of rock's greatest guitar innovator broke down in tears as the capacity crowd stood on honor of Jimi's accomplishments".
---
1994
---
Keith Richards and Ronnie Wood jam with Little Jimmy King and play Red House.
---
1997
---
Mick Taylor, again, includes Red House in his setlists.
---
1998
---
Sidemen of the Rolling Stones played Voodoo Child (Slight return) in a club gig in Amsterdam during the Bridges to Babylon Tour.
---
1999-2007
---
Mick Taylor again includes "Red House" in his set lists.
---
2002
---
Late January, Ronnie Wood jams with the Corrs and Bono in Bray. Ronnie Wood joined the band on stage to play guitar on their version of Jimi Hendrix 'Little Wing'.



Thanks ZaCFxE for sharing the video for all to watch!
2011
---
4th June 2011 - Ronnie Wood jams with The Jones and Roger Taylor from Queento perform "Voodoo Child (Slight Return)



---
Unknown (by me) dates:
---
Keith wears a Hendrix T-shirt during concerts and press conferences.
===============================================================
The following photos show the jam at Jimi's wake with John Hammond, Johnny Winter, Buddy Miles, Noel Redding and Jimi's brother Leon. October 1, 1970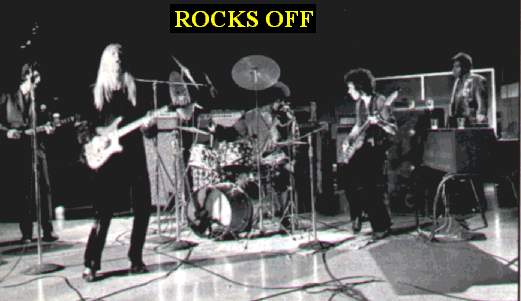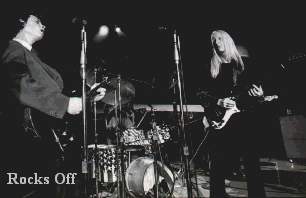 This is a summary of Hendrix and Stones records during the Hendrix days:
1967:
Hendrix: Are you Experienced? Axis: Bold as Love
Stones (*) Satanic Majesties Request
1968:
Hendrix: Smash Hits, Electric Ladyland, and Electric Hendrix (**)
Stones: Beggars Banquet
1969:
Hendrix: nothing just touring and recording and tripping and experimenting
Stones: Let it Bleed
1970:
Hendrix: Monterey Pop, Band of Gypsies
Stones: Get yer ya ya's out
(*) Not counting compilations and promos and EPS (Between the buttons, Trough the Past, Darkly (Big Hits 2), The promotional album, flowers, etc
(**) This album withdrawn before public release a few DJ copies are in existence.
Jimi died today 30 years ago at 11:45 at the St. Mary Abbots Hospital in London. He took some downers when he got home after a party in which he drunk too much. The inhalations of his own vomit was the official cause. His body is in the Greenwood Cemetery, Seattle, WA, his soul is in Heaven's Rock section, his music in our heads and our hearts (at least in mine).
===============================================================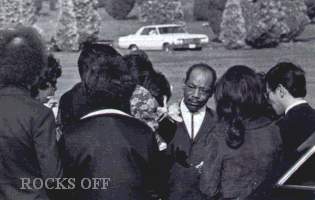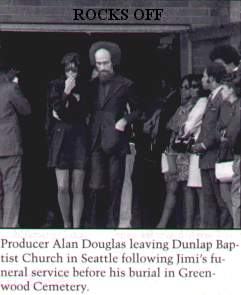 Well, I'm a voodoo chile
Lord I'm a voodoo chile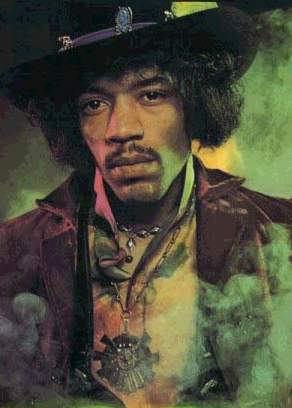 Well, the night I was born
Lord I swear the moon turned a fire red
The night I was born
I swear the moon turned a fire red
Well my poor mother cried out "lord, the gypsy was right!"
And I seen her fell down right dead
Today is raining cat and dogs; I'm hearing The Jimi Hendrix-Traffic Sessions and Electric Ladyland. It was a pleasure to write this for anyone who reads it, and for my own occupational therapy, thanks for reading this.
HENDRIX LINKS
EXPERIENCE HENDRIX. LLC Sucks so we removed the link to the "official website" instead visit this link to know why we removed it...
Jimi Hendrix Live A great time line of live concerts by Jimi from 1966 to 1970.
Nine To The Universe A great place with the best links.
Jimi Hendrix, Caricatures by Pritchett
(*) These texts were posted by the late Temple Lee in the Brian Jones Message Board.
Thanks Shaun for the Devon part!
THIS SITE WAS CREATED AND IS MAINTAINED BY GERARDO LIEDO