ROCKS OFF
JAMES PHELGE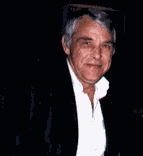 If there is any of you that doesn't know who the fuck is James; he shared the infamous 102 Edith Grove flat with Brian Jones, Mick Jagger and Keith Richards and was closer to the Stones than anyone has ever been. According to Keith "is the most disgusting person ever" LOL... "An unknown hero", "lovable" "a troublemaker" etc. In my particular opinion he is one of the funniest guys in Stonesland. He is also the chairman of the Buncha Asshole Serious Illness Center, for those of you that need some attention.
He is the author of Phelge's Stones a book describing those times, a MUST for a Brian Jones and/or a Rolling Stones fan.
If you want to buy his book visit this site:
Your support is needed...
This is to request your support and inform you that James Phelge has started a campaign to rescue Edith Grove and put a commemorative plaque on the site. He is requesting our support just signing his web site for this purpose.
The only thing you need to do is visit the special site for this purpose and SIGN!
This site is tempory closed! But has some pictures of Edith Grove
The Rolling Stones Plaque Campaign Founder: James Phelge
See some pictures of James with Mick and Brian
<![if !supportEmptyParas]> <![endif]>