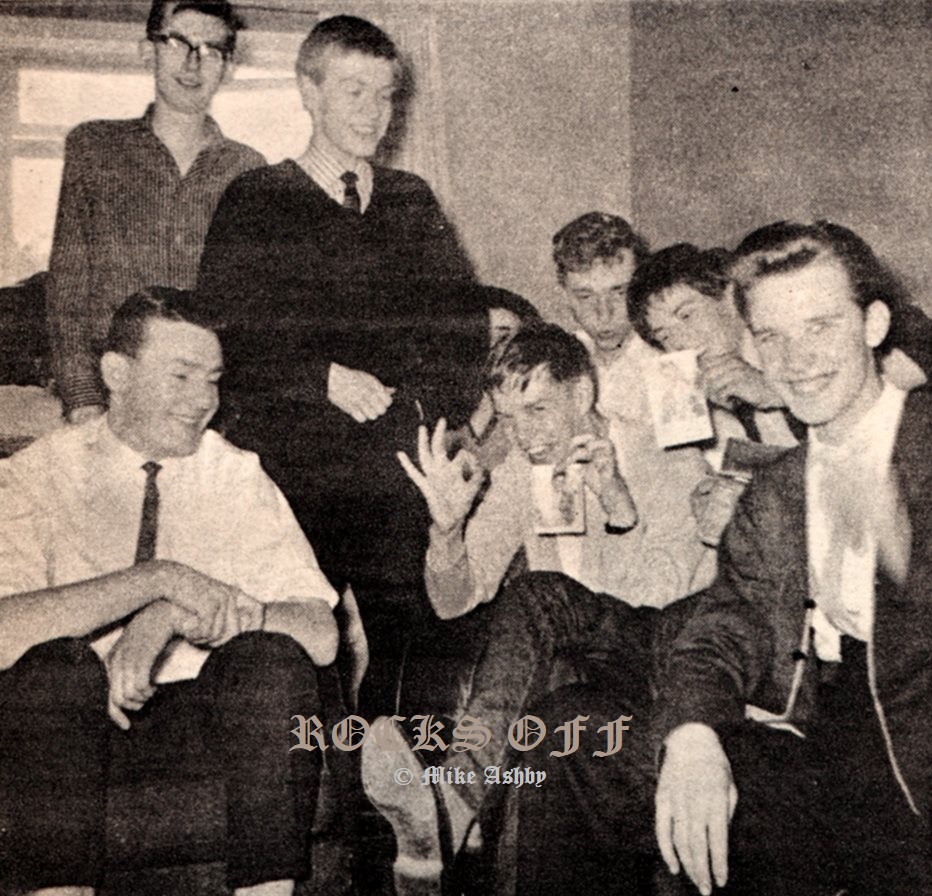 The above photo is from September 1962, from left to right, Ron Carmichael, Lonesome Dave Peverett (later a member of Savoy Brown and founder of Foghat), Brian Jones, Jeremy Pender (on the back, almost hidden), Mick Jagger, Graham Ackers, Keith Richards and Harry Simmonds, brother of Savoy Brown's founder and leader Kim Simmonds.
Mick and Keith with photos of Chuck Berry and Bo Diddley.

The photo was almost certainly taken in the house of a fellow called Mike Ashby, in Surbiton, a suburb of London. The London group of rhythm-and-blues fans that was starting to emerge at that time had come together through an exchange of letters in the music paper New Record Mirror, the editor at the time being a great supporter of R&B called Norman Jopling. Dave Godin had at about the same time formed the Tamla-Motown Appreciation Society, and Mike Ashby, Graham Ackers, Brian Jones, Mick Jagger and Keith Richards were all members.

I became aware of the group when Graham Ackers replied to a letter I'd written to New Record Mirror asking other R&B fans to get in touch with me. It wasn't long before I too was joining in the regular Sunday-afternoon record-spinning sessions in Mike Ashby's house!

Harry Simmonds, Dave Peverett and Ron Carmichael were all members of the Bill Haley Fan Club, as was Mike Ashby, and Mike one day decided to start inviting those three to join the rest of us on those wild Sunday afternoons!

Jeremy Pender


---
Alternating bassists and drummers, they played a lot og gigs since their first gig on July 12 to December 30 or 31, 1962
Click for our detailed
1962: GIGS, SETLISTS AND LINE UPS
Late this year on October 27, 1962 the Rollin' Stones enter the studio for the first time, but this recording was never released. They recorded under Curly Clayton direction the following songs: You Can't Judge A Book By The Cover (Willie Dixon), Soon Forgotten (James Oden), and Close Together (Jimmy Reed)
In early 1963, they alternate some drummers and bassist, but snce January 24 they played with the same line up:
Photo: The Rolling Stones - Spring 1963 From "The Rolling Stones Complete" LFI
The first stable line-up: Brian Jones, Bill Wyman, Charlie Watts, Ian Stewart, Keith Richards and Mick Jagger.
Marquee Jazz Club, London – Jaunary 24, 1963
Later Andrew Loog Oldham and the other members of the band decided to put Ian as a side member, this was recently mentioned by Andrew in a  question we asked to him. This is the answer he gave us:
"I did not fire Stu, that was not within my power to do. I just told the band that I did not think the English public... were capable of being sold an image factor that contained six people. "If the band had said, 'Andrew, you can't do that' then Stu would have stayed in the band. It remains a good decision. Life's got a short attention span when you work from nine to five and need to be entertained. Over the years the Stones have got away with 'Andrew fired Stu' - life's not as simple as that."
For more about this great interview, check our site for STU,
Now with this line up but STU playing on the back, out of the audience view, they toured really hard during 1963, check our site:
1963: GIGS, SETLISTS AND LINE UPS
"In the beginning, Mick had been invited to join Brian's band. By now (late 1963) the relationship had shifted, by increments, and Mick had become Brian's equal. That too, would change" David Hinckley & Debra Rodman (Black and White Blues)
In April of 1963 they were tested at the BBC studio but didn't pass the audition. But later in May they recorded their first single "Come On" (Chuck Berry) and "I Want To Be Loved" (Willie Dixon) at the Olympic Sound Studio in London unde Andrew Loog Oldham production.
In August they recorded Poison Ivy (Leiber, Stoller) and Fortune Teller (Neville) and the single for Decca with code number F11742 was produced by Impact Sound, but never released.
On October 7, 1062 the Rolling Stones enter De Lane Lea Studios in London and under Eric Easton production they recorded the second RELEASED single (the third single), they recorded only the two songs on the single: "I Wanna Be Your Man" (Lennon - McCartney) and the instrumental "Stoned" (Nanker Phelge), later released on November 1, 1963.
The following are some great pix by Gus Coral documenting that day!